As mentioned in our last blog, smaller employers with less than 19 employees will need to start reporting their payroll data via Single Touch Payroll by 1 July 2019. That's not far away and if this affects you, you need to start getting ready now! Don't panic though, we are here to help and to that end, we have prepared a "get started with STP" checklist to assist you.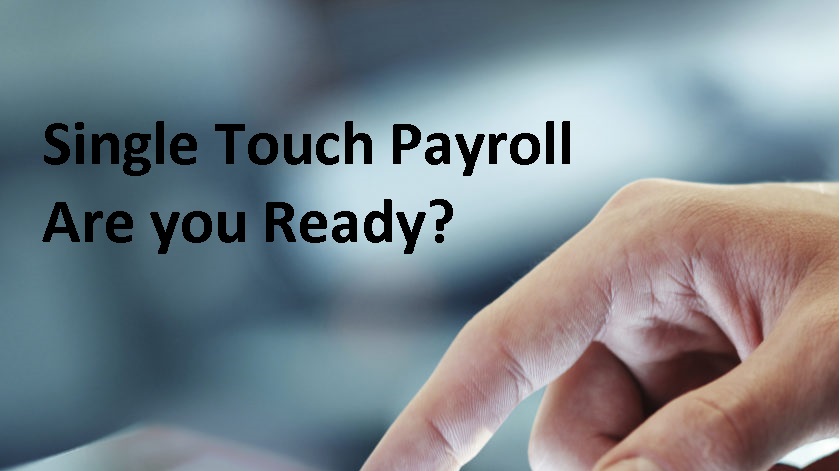 Before sharing our checklist with you, just a little bit of background for those in the "I don't know anything about STP" camp…
What is STP?
STP is a reporting change regarding your payroll. Instead of reporting your payroll data once to the ATO at the end of the financial year, you will report each pay run or "payroll event" (as it is now called) to the ATO at the time it is processed. The reporting will be done via your accounting software. Your payroll processes do not need to change – the only change is that your payroll information will be reported more often to the ATO.
Why STP?
The ATO are trying to streamline the processes for employers and employees regarding all things payroll, from providing employers with current tax file number information and super details of new employees, to allowing employees to see their tax and super information in real time. Some benefits of STP can include:
No more payment summaries (or "income statements" as they now called). Employers will no longer need to provide employees with payment summaries as they will now access them via their myGov accounts instead, once the final pay event of the financial year is sent to the ATO via STP.
No more PSAR's – employers will no longer need to provide the ATO with a payment summary annual report.
Employees can see at any time, their year-to-date payments from employers, superannuation paid, access their payment summaries and also access their Notice of Assessment once their tax return is completed. They will be able to access all of this information via their myGov accounts.
Employers will be able to offer online commencement forms to new employees including the TFN declaration, Superannuation Choice form and Medicare levy variation declaration form. This will all be available via myGov and will be provided to both the employer and the employee making onboarding a new employee a more streamlined process and helping to delays and errors.
Getting started with STP Checklist
The first thing to know about STP is that nothing really changes for you. You will continue to process your payroll as you always have except that at the end of each pay run, you will click a button in your accounting software and send the payroll data to the ATO. Of course, before you can do this, you need to set up STP in your software and ensure that the ATO knows about it! Below is a list of items you need to do in order to get ready for STP.
Decide when you want to start reporting via STP. You can begin right now if you wish, meaning your 2018-19 FY year-to-date payroll data will be sent to the ATO. You can wait until the official start date i.e. July 1 2019 or you can opt in some time between July 2019 and September 30 2019 as the ATO are allowing smaller employers to delay STP until the end of the first quarter in the 2019-20 FY (but no later).
Employees and myGov accounts. In the near future, all communications from government departments including the ATO, will only be available via a myGov account. You need to tell your employees to register for a myGov account now. Here is a link you can share with employees from the ATO about STP and how it relates to them. You can also provide them with this link to assist them to register for a myGov account https://www.humanservices.gov.au/individuals/online-help/create-mygov-account
Perform a payroll health check. The ATO advise that it is good practice to review all payroll items and employee setups etc. before starting to report via STP to ensure that payroll data reported is accurate and correct. We think this is a good idea too. Check things like allowances, superannuation rate, salary sacrifice, deductions, PAYG withholding rate, employees' contact details, using correct award, agreement and/or contract etc.

Connecting your software to the ATO for STP. In order to lodge payroll data via STP, firstly, you need to notify the ATO of the special software ID (SID) number from your accounting software. There are several ways to do this. If you have access to your business portal, you will notify via Access Manager. If you have your ABN connected to your myGov account, you can notify via myGov. If you don't have either of those options available, you can call the ATO on 1300 85 22 32 and notify over the phone. Note, this is an important step and if not done, you will not be able to send your STP report to the ATO. See more information here. Once you have notified the ATO re the SID, you are ready to set up STP in your software and start reporting. Below are some links re to how to set up STP in each of the more common accounting software packages to get you started:
Need more help?
Further information or reading. If you would like further information or would like to do some reading about STP, here are some links which may assist you:
We can help – give us a call..
We realise that this is a lot to take in and that you will probably have questions or need assistance with set up. Please feel free to contact us to make an appointment to discuss your needs etc. We'd be happy to assist.