What is eInvoicing?
eInvoicing is a new way to securely send and receive invoices between businesses via a secure global public network known as Peppol. The Australian Peppol Authority is the ATO. eInvoicing, despite being a popular and efficient method of transacting, is not mandatory.
A buyer and a supplier must both be registered with Peppol in order to use eInvoicing. This is done via your accounting software (if it offers eInvoicing functionality). Larger businesses may need to use alternative options in order to connect to the network.
Why eInvoicing?
eInvoicing is secure and time-efficient. It removes the need for using email or snail mail as methods of sending invoices and therefore, is more secure. It also removes the need to key in invoice data when an invoice is received and/or scan and attach PDF copies of the invoice. Data entry error is also heavily reduced when using eInvoicing due to little or no keying in of details required. When an invoice is received via eInvoicing, you would simply go through your normal approval process and then prepare to pay the invoice when ready. The below image is from the Institute of Certified Bookkeepers and explains the difference between the current invoicing process you probably use now, and the eInvoicing process which is much simpler.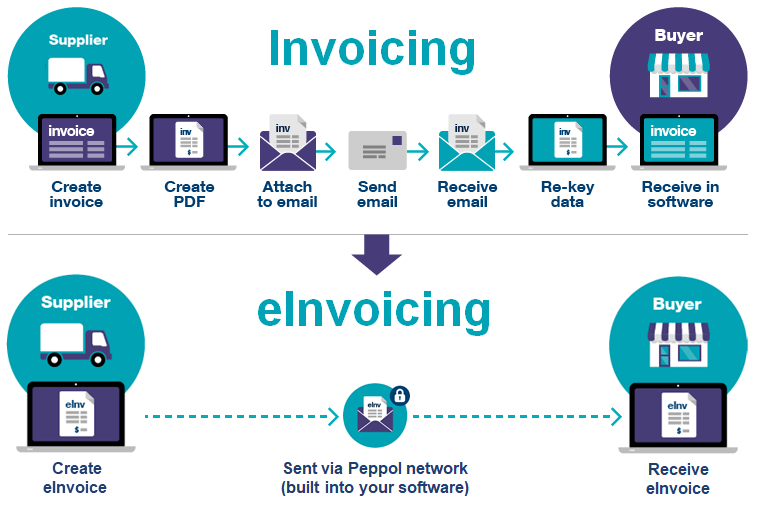 How do I know if my supplier or customer is eInvoicing-enabled?
When you or your supplier becomes eInvoice-enabled, you will be listed in the Peppol Directory. You can search the directory to see if your contact can receive or send eInvoices.
How do I know if my software product is eInvoicing-ready?
All software products that offer eInvoicing functionality are listed in this register on the ATO website. Some products are accounting packages and some offer online web portals for eInvoicing.
Below are 3 of the most popular online accounting packages which are eInvoicing-ready now. Each software link below will assist you to get started using eInvoicing and explain the process specific to that software. It's important to note that MYOB and Xero do not charge anything extra to use eInvoicing which is excellent! Reckon has monthly packages including eInvoicing.
Not ready to commit to eInvoicing? Need more information?
eInvoicing is relatively new, although large companies and government departments have been using it for quite some time now. Small businesses are slowly engaging in this new method, with the uptake increasing continually. It is understandable that you may not be ready to make the jump to eInvoicing or even require it at this stage in your business development. If you would like to do some further research before moving forward, here are some useful links: