The other day a potential client rang me and said she was looking at our website and wanted to know how remote bookkeeping worked and more importantly, how it could work for her and her business. I was a little surprised by her questions because I've been working remotely or "telecommuting" as it's been labelled of late, for years now as have many others. I went on to explain how I work and how my clients work with me but I got the feeling that she wasn't entirely convinced. It made me think that there are probably others out there who don't quite understand how bookkeeping can be done remotely so I thought I'd write a blog that would help to explain how it all works.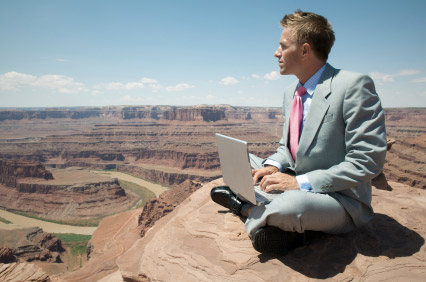 Why do I work remotely?
I have worked remotely for over ten years now. Generally I work from my home office but sometimes I visit a coffee shop, a library, go to the beach (I live near the beach) etc just for a change of scenery. I decided to work in this way because of family pressures. I have a disabled child and this precludes me from being able to work away from home due to the care he requires. Being a telecommuter allows me to run a business and attend to the needs of my family at the same time, the latter being most important to me.
Remote bookkeeping – degrees of remoteness
I have several clients and I work in a different way for each of them depending on their needs. Some of my clients live locally only about 5 to 20 minutes drive from me but most of them live interstate. I have a rule due to my need to stay close to my son, that I don't travel any further than Geelong (20 min drive from my house) to visit a client. I have clients in Melbourne which is about 1.5 hrs away but I won't travel to them for the same reason and they are fine with this, happy to meet via Skype or Google Hangouts instead. Despite their location, I do all of my clients' bookkeeping remotely i.e. not on site. Having said that, there are times that I do visit my local clients in person but only when very necessary.
So how does the work get done when I'm not actually working with the clients on site?
The answer is I leverage the power of the internet and various applications (apps) that allow me to work from home (or wherever). The internet has given me the freedom to be able to work remotely and still remain at home to care for my son. For me, it's been like the holy grail in terms of achieving the perfect working scenario and I am very thankful for it.
The internet allows me to remotely share documents with clients, work on their accounting files and have virtual meetings with them when required all from the comfort of my home office. As mentioned above, I use apps to help me do this. The apps I mainly use are:
For document sharing and delivery:
To work remotely on accounting files:
To have virtual meetings:
To process the work:
Non-electronic methods of sharing and delivering documents:
Even though electronic apps are the main-stay of my "online" bookkeeping business, there are still some clients who prefer to do things the old-fashioned way (not that there's anything wrong with it!). Some prefer to send and receive their documents via snail mail or if they are close enough, deliver the documents to my door. Both methods are acceptable and fit into my teleworking lifestyle (yes, I call it a lifestyle) because I am still able to receive client data without actually having to leave my office/house.
So that's how I work remotely with my clients – just me, the internet and a whole bunch of very useful apps (and in some cases, Australia Post!). In general this works really well with the only potential issue being if the internet becomes unavailable which happens very rarely thankfully. The other issue in my experience however, is that of poor communication. I believe teleworking is only successful when the client and I communicate regularly. Not having face-to-face contact with clients makes good communication skills even more important and vital to a successful professional relationship. I will discuss this issue further in my next blog.
I hope this blog has clarified how remote bookkeeping works in my business. As I said at the beginning I was surprised when the lady who called me was questioning this concept – I thought everyone knew about teleworking but apparently not! I suppose it's not for everyone but I have had great success with it and thanks to the internet, have been able to build a business that reaches clients Australia-wide all from the comfort of my beach-side home office – bliss! My son thinks it's pretty good too 😉